The Team
We would like to introduce the 2018 Summer House core event team!
In addition, the team includes a wide range of people with experience in everything from event lighting and performance to roleplay and storytelling to spirituality and self-development.
Head over to 2018 Presenters to see who's facilitating workshops, talks, activities and performances at this year's Summer House.
If you wish to get in contact with us please use the details on the contact page.
TOBIAS - FOUNDER
Founder of The Winter House Weekend, The Summer House Weekend, co-founder of Kinky Salon London and White Mischief, and all sorts of other things. What began as a birthday party has developed into a journey exploring all aspects of intimacy and relationships, supporting people to expand and experiment in a safe container. This community (including myself) is always learning and trying to do things in a more progressive way. I don't want to just put on a party, I want there to be something that has meaning to people and where people challenge their preconceptions and hopefully go away with their lives being enriched a little bit.
MARTI - PROGRAMMING
Marti is a passionate facilitator, mentor and feminist, working internationally in the field of sexuality since 2013. She loves to create spaces and situations where we can explore our depths and our limits, preferably while having a really great time! Her ongoing fascination in power, consent and equality has inspired her latest project, Sound of Birch, where women bring the ethos behind what they learn in the bedroom into everyday life. Marti has helped many women nurture their own power and take more control of their lives. Her personal story has inspired her quest to help others to contribute to the world with their power and their vulnerability, their wisdom and their authenticity.
KATY - CONNECTIONS & COMMUNICATIONS
I accidentally got involved with the pre-production for the Summer House in 2017 and was instantly reminded how much I enjoy working with awesome people to make awesome things happen! I've been coming to the Summer House since 2014, leading the morning yoga sessions each day, so some of you may already know me, and some may not have seen much of me at all :) I'm a child of nature but I'm also a bit of a geek, and see a beauty in using our resources and energy efficiently, creating flexible structures from which we can flow. And I believe, when we can find creative ways to navigate work and play, most importantly we will have more time for play! The Summer House Weekend continues, year on year, to be my favourite weekend of the year - it's the centre of my Venn diagram, where the most amazing creatures in my life collide in such a magical and fulfilling way. I can't wait! When I'm not working on the Summer House, you'll most likely find me running yoga retreats in nature, offering tantra and intimate bodywork sessions for all genders and backgrounds, or working on a digital communications strategy or website for other lovely clients. mahayoga.org.uk
CLARE - PRODUCTION
Clare has been involved with managing and working with teams of people in events and festivals, like Kinky Salon, Nowhere, Boomtown, Burning Man and Glastonbury for over 10 years in various roles. She originally joined the Summer House community by working on the poolside bar in 2015, and migrated across to the production team shortly after. Since 2017, she now heads up the production team, and will be seen here there and everywhere doing lots of things whilst wearing as many striped and coloured things as possible, and is the go to person for all event based information during the event. She does not like to mix work with any play during the event, but is well known and trusted to facilitate and hold a safe space throughout the kink and sex positive communities for all to enjoy. She says that the production office is always an open door fo you to come and discuss any needs you may have, with the production team at any point, during your weekend with us and if you want to make her really smile, she absolutely loves getting surprise mail deliveries from the Summer House Post Office!
RICHARD - PRE-PRODUCTION & VOLUNTEERS
Richard is a jack of all trades with a history in business administration and information services. For the past several years he has foresworn life in a 9-5 office environment and spent his time broadening his skills. As someone who thrives on variety, he now he finds balance by dividing his time between working with his hands in various ways and working in events admin, including doing all of our administrative tasks. Most of Richard's interests lie in making things and working on events. Making some of his living from his leatherwork and other making skills, during the last few years he has also worked on such events as Kinky Salon London, The Summer House Weekend and Nowhere Festival.
EMILY - QUEER SPACES & ADMIN
Emily is a Summer House regular and been assisting in different capacities over the last 4 years. Sometime Fungeon and workshop host, queer play space host, newly found as part of the admin crew and keen interest on supporting returning guests to learn new things and have new adventures every time they visit. She has run many different LGBTQ+, sex positive play and BDSM events over her many years in the London kink and queer scenes. As likely to be found giving workshops on edge play as revelling in the silliness and trying to make all aspects of play, playful. She also run her own hairdressing business in London, primarily for folx that want to avoid the often very challenging experience of going to a typical salon. She has a vested interest and personal commitment to champion accessibility and visibility for marginalised groups of all kinds. facebook.com/anhairchy
MORGAN - SOCIAL MEDIA
Morgan Lev Edward Holleb is a writer and speaker on queer and trans issues, and is passionate about queer community outreach and support. In 2017 he started a support group in London for men and non-binary people who have experienced sexual violence, which now continues in Glasgow. He has worked on community accountability processes in several spaces, including the Wellbeing Team for the Summer House and Winter House weekends, but now spends most of his time on twitter. He's currently working on a book, The A–Z of Gender and Sexuality. He plays cello and loves plants.
CARMEN - CREATIVE
Carmen is an award winning project management director and events organiser working in healthcare communications, helping people to access the care and information they need. She has facilitated many workshops and events over the years for promoting good critical thinking in science and politics. This will be her fourth Summer House and she is thrilled to be a part of it. You will find her running workshops this year on getting organised and how to spot bullshit, or playing in glitter in the craft tent!
SHANNON - CREATIVE
Shannon Meow is a maker and creative who takes pleasure in making DIY costumes and accessories from unused materials. Shannon works in science comms by day and is a core crew member for Kinky Salon London, and campaigns on human rights, including immigration and LGBT+ issues, at night. Always happy to help, she will be heading up making, costuming and writing letters in the Craft Den, where the Summer & Winter House Post Office also lives.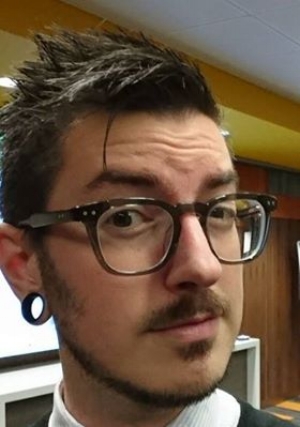 BENJAMIN - WELLBEING
Benjamin has been involved in the kink and sex-positive scene for over 15 years, and has worn many hats in that time. He can often be found leading workshops, or being a helpful squirrel. These days he spends more time in his allotment than at parties. During the day, he manages a mentoring programme for women in STEM, and is doing his PhD on gender in science.
MR STEFAN SPOON AKA: SPOON - LIGHTING & PRODUCTION
I like both cats and dogs.
Born into a beach bum family, it's safe to say that I really like lounging about in the sun.
I am a simple complex person.
I'm the guy with that mental green hair / wig.
I've gotta whole lotta love.
Things worth knowing about me:
I'm not English, I'm Cornish.
I wish to one day be paid what I am worth for my work.
Always bring me coffee. I like it strong, milky with 2 large sugars.
You will most likely see me running around like a headless chicken with that well known, long 'to-do list' face. The pretty lights on the side of the house are my doing. iamspoon.co.uk
LORRIANNE - FRONT OF HOUSE
Lorrianne has been a hornicator on the kink and sex positive scene for nearly 10 years, smashing through a fabulous assortment of headwear the whole way through. She came to Summer House in 2013 as a guest, and after falling in love with the community, she decided resolutely to never really leave. She has since been with the Summer and Winter House Weekend events as a performer, costume creator, workshop host, general busy-body, and eventually a production member, and your Front Of House Mistress since 2014. When she temporarily takes a break from colour coding spreadsheets (much to the dismay of other members of the production team) and herding cats (ie, volunteers), she can be found in various crevices crafting dreams, scenes, costumes and events across the spectrum of alternative people-positive London.
HAL - ENTERTAINMENT & PERFORMANCE
Hal Krylov is a drag king astrophysicist with over a decade of experience in the kink & non-monogamy communities. Originally from Russia by way of Los Angeles, it traveled to the UK to finish its degree while exploring graduate options & expanding its drag presence. In 2012, it founded queer cabaret Pangaea to spotlight trans & nonbinary performers of all bodies & levels of experience in acts that are nerdy & dirty. Connect with it on facebook.com/antithestasia & learn more about the cabaret at clubPangaea.com